Analysis
Of those licences for which clear documentary evidence exists, for England, Wales and the Islands (but not Scotland, Ireland or royal domains in France), for the years up to 1600;
433 were Royal (including 12 Pardons and retrospective grants). 19 of these were confirmations of previous licences of which 3 are included in this analysis because they may include licence for new work. A further 4 licences were revoked (plus the licence to Thomas de Gourney, not in the rolls, was probably revoked because of his death during the licensing process; see Estharptree 1343.
8 were Palatinate of Durham (including 3 Pardons and retrospective grants).
5 were Palatinate of Cheshire.
2 were Duchy of Lancaster.


450 were for named private residences (31 sites are issued further licences for possible new work - called 'repeat' below) a further 6 (or more) unnamed sites are licenced, such as the licence of 1311 to Hugo le Despenser, the elder, for 'all his dwelling houses'.

19 of these were for houses, other than bishop's palaces, in towns (13 in London and Westminster, 1 repeated, 2 in York, 1 Beverley, 1 Shrewsbury, 1 Macclesfield-repeated with a chester licence, 1 Maidstone. Penrith Castle is also described as a 'chamber' in Penrith4a but as it is specifically built for the defence of the town I have not called it a town house.4b

28 were for urban defences (7 repeats).
44 were for ecclesiastical5 sites (7 repeats).
6 (or more) were for private coastal artillery forts.6


47 of the licences were for multiple site.
Of these certain licences;
480 buildings in England were licensed (59 more than once), 3 in Wales (all town walls), 1 in Guernsey (St Peter Port town defence)

102 were for sites which have been described as masonry castles (of 573 in my listing for England - 18%)
285 fortified manor houses (of 728 in my list - 39% 7)
66 palaces (of 474 in my list - 14%)
9 pele towers (of 456 in my list - 2%)
24 tower houses (of 186 in my list - 13%)
18 town defences (of 284 in my list - 6%) plus the four in Wales and Guernsey.
NB. There is some duplication of these descriptions, i.e. buildings which have been described both as castles and fortified manor houses (e.g. Eccleshall Castle). However, this does not significantly distort these figures.
Whilst there may be some 'lost' licences8 it is inconceivable that 60% for fortified manor houses are lost and the argument that licences to crenellate were a 'requirement' for fortifications does not stand up to examination. Clearly most fortified buildings were built without the owner applying for a licence to crenellate. Of the 114 fortifications in Northumberland enlisted, possibly for Henry V, in 1415 just 23 had licences although most were buildings built after 1300King. So even among building considered strong enough to defend against an attack from the Scottish army the majority were unlicenced and the king knew this.
Social rank, or job title, is mentioned on 246 licences;
11 Women are named (six as wife, three as widow, one as king's nurse); 4 are granted licences in their own right.9
Licences are granted to 96 Clergymen;

3 Archbishops (3 different archbishops of York)
31 Bishops
26 Abbots (22 of these also include the chapter)
9 Priors (8 with chapter)
5 Deans (3 with chapter)
1 Master and brethren
19 Clerks (1 master of the hospital of St. James by Westminster)
1 Rector and brothers
1 Keeper of Bolton hospital.

Townsmen, in various terms (burgesses, commonalty, good men), are mention in 24 licences. The mayor is also mentioned in six of these.
other ranks given in the licences ;

11 Yeomen (10 individuals), most of these are significant persons with direct access to the king such as Edward III treasurer John Molyns.
3 Citizens of London
18 Esquires (including 'armiger' and 'squire')
65 Knights (in 57 licences, 4 also called lord, 1 other lord is also ranked)
2 Barons
18 Earls (15 individuals, 1 acting on behalf of a knight)
4 Dukes (3 Individuals, 1 acting on behalf of a knight)
6 individuals are identified as royal relatives
the others, not ranked in the licences are probably mainly knights.

Licences for Dodyngton (1403), Wodhall (1410), Rykmersworth (1426), Wycroft (1427) and Rye (1443) are granted to groups of named men. Some of these may have been trustees, acting on behalf of another; that for Wycroft, was actually for Thomas Brooke supported by his allies after he had been attacked.
Royal grants by reign are;
| John | Hen3 | Edw1 | Edw2 | Edw3 | Rich2 | Hen4 | Hen5 | Hen6 | Edw4 | Hen7 | Hen8 | Edw6 | Eliz |
| --- | --- | --- | --- | --- | --- | --- | --- | --- | --- | --- | --- | --- | --- |
| 10 | 39 | 46 | 61 | 152 | 39 | 10 | 2 | 24 | 14 | 5 | 10 | 2 | 3 |
These number refer to the number of licences, not the number of properties.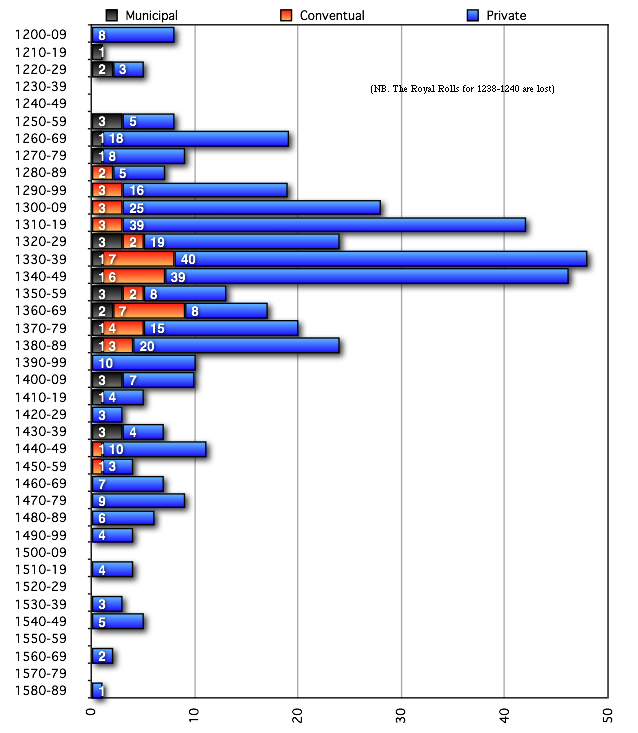 Again these number refer to the number of licences, not the number of properties. Clicking on the dates on the chart will open the relevant part of the list in a new window.
There is a marked drop in the granting of licences after 1348, presumably due to the effects of the Black Death. (4 in 1343, 4 in 1344, 4 in 1345, 5 in 1346, 4 in 1347, 5 in 1348, none in 1349, 2 in 1350, 1 in 1351, 4 in 1352, 2 in 1353, none in 1354. That is 26 in the six years to the end of 1348 and just 9 in the next six years.)
Conventual licences (to abbeys, cathedral chapters etc) are particularly concentrated from 1280 -1380, there is no evidence of a drop in these licences from the Black Death, indeed there may be a slight increase in the couple of decades after 1348. Clearly the troubles throughout the 14th century may have affected a desire from such communities to cut themselves off from the secular world, or at least symbolically defend themselves from it. However, I would speculate that an increase in income, resulting from increased beneficiaries after the plague, allowed a funding of buildings.
53 licences are combined with licence to impark land. These are mostly 15th and 16th century licences and nearly all later private licences to crenellate are part of more complex grants, including park enclosure. Some licences to crenellate are clearly for hunting lodges, such as that for Lewis Johan 1414 . Increasingly the country house with park, rather than the castle, became the symbol of lordship and lordship came to be displayed through its privileges rather than its duties.
The expression 'on the sea coast' (juxta mare) is used in 7 licences; Flaynburgh 1351, Quarrera 1365, Chidiok 1370, Bodyham 1385, Herewiche 1405, Malberthorpe 1459 and Letley 1547.
The expression in or by the marches of Scotland (marchia Scocia) is used in 9 licences; Dromburgh 1307, Dunmalloght 1307, Scaleby 1307 (Three separate licences granted on the same day), Blemansoppe 1340, Treuermane 1340 (Two separate licences granted on the same day - The granting of separate licences on the same day is unusual), Harcla 1353, Wirkyngton 1380, Penreth 1397 and 1399.
The expression 'the marches of Wales' occurs once; Leomynstre 1402 10
33 licences use the term castle (castrum), seven are for pre-existing castles the other are to make manors into castles. 12 licences use the term fortalice (fortalicium) - three using both terms.
Licences were granted at Westminster (207), Berwick-on Tweed (9), Canterbury (4), Lincoln (4), Northampton (6), Nottingham (6), Roxburgh (5), Tower of London (5), Windsor (11), Worcester (4), Woodstock (14), York (22) and 72 other places (3 or less licences). There seems, to me, to be little relation between the place of the grant and the location of building licensed. Fore instance of the 4 licences granted at Roxburgh in 1335, three were for buildings in Cornwall and one for a building in York. The location of the 25 buildings of the 22 York licences are; Yorkshire (9), Shropshire (3), Norfolk (2), Kent (2), Cumberland, Sussex, Devon, Lincolnshire, Bedfordshire, Oxfordshire, Durham, Gloucestershire and Wiltshire.
As the practice of the Chancery became gradually systematised, a custom was developed of entering on Letters Patent, and on the enrolment of them, a note of the authority under which the Great Seal had been affixed to them. For these later licences the relevant numbers are; 224 by Privy Seal (Per breve de private sigillo), 103 by King (Per ipsum Regem)+ 1 by Queen, 4 by King and Council (Per ipsum Regem et Concilium), 7 by Council (Per Concilium) and 2 by Petition in Parliament (14 of the previous also by authority of parliament).
A fee or fine is mentioned in 7 licences;

Inspeximus always incurred a fee but these are not part of this analysis unless additional licence was granted (they are detailed in the list of licences). The only conclusion I feel comfortable drawing from this is that the clerk of 1374/5 was either particularly conscientious in recording a standing fee or in getting a fee.
There is, of course, no such thing as a typical licence. However, one might talk about a 'mode' licence, that of the most common form. This would be a licence granted by Edward III at Westminster by privy seal to a knight for a single property (mansum - dwelling place), described by modern writers as a fortified manor house, such as that granted in 1345 to Roger Hillary to crenellate his dwelling-place of Berkmondescote, co. Stafford.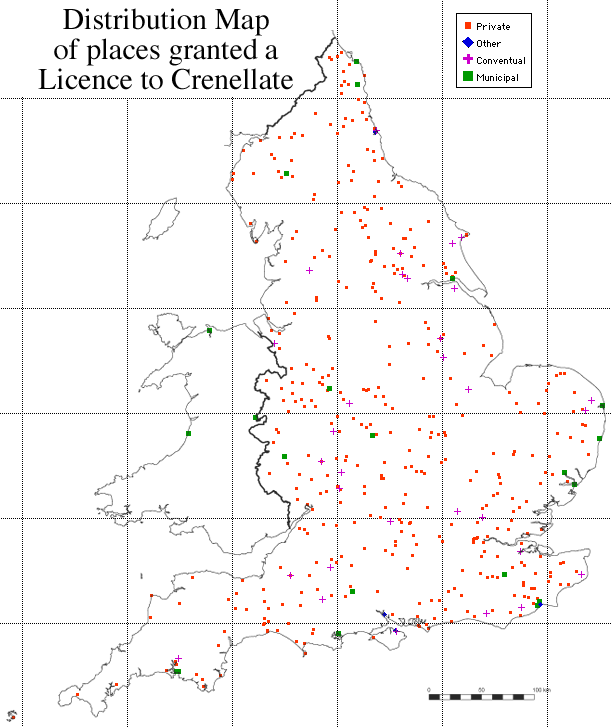 The distribution map shows little other than the tendency for municipal licences granted to build town walls to be mainly a feature of coastal towns. Distribution is fairly random and there is certainly no evidence of a concentration of licenced 'fortifications' in the Scottish March or the coast.