Finding copies of bibliographical references for castle studies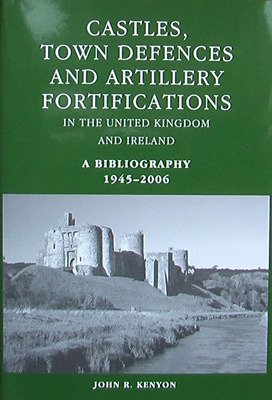 John Kenyon has, over many years, collated and often reviewed bibliographical references for castle studies. This outstanding work is the base for much of the bibliographies given in the Gatehouse website.
These have been published as;
Kenyon, John R., 1978, Castles, town defences, and artillery fortifications in Britain and Ireland: a bibliography. Volume 1 (CBA Research Report 25)
Kenyon, John R., 1983, Castles, town defences, and artillery fortifications in Britain and Ireland: a bibliography. Volume 2 (CBA Research Report 53) [available online via Archaeological Data Service]
Kenyon, John R., 1990, Castles, town defences, and artillery fortifications in Britain and Ireland: a bibliography. Volume 3 (CBA Research Report 72) [available online via Archaeological Data Service]
These are incorporated and built upon in
Kenyon, John R., 2008, Castles, Town Defences and Artillery Fortifications in the United Kingdom and Ireland. A Bibliography 1945-2006 (Shaun Tyas)
He has aso produced annual bibliographies for the Castle Studies Group since its first publication in 1987. These are available at the Castle Studies Group Website
From 2013 Dr Gillian Scott (née Eadie) has taken over the editorship of the CSG bibliography.
The online specialist and frequently updated bibliography of The Royal Historical Society previously recommended by this website stopped being freely available at the end of 2009. It is now available, for a subscription, as the Bibliography of British and Irish History. Many institutions will subscribe but for some amateur researchers the subscription cost is likely to make this service sadly inaccessible.

Below are links to sites which may help with finding copies of books and serial articles. It is likely that a fee or subscription will be needed to download copies of recent serial articles. Newer books can be brought from the usual well known high street and online booksellers although for academic texts specialist booksellers, such as Oxbow Books, may have better available stock.
Older, out of publication books but which are not out of copyright, are going to be only intermittently available for sale. Most specialist bookshops now sell via Amazon.
For a couple of hundred of the more important general texts and significant gazetteers fuller details, including ISBN, can be found in the Gatehouse
bibliographies
.
This page last edited and links checked on 29 March 2017.
---
¤¤¤¤¤